default
4/30/12 Show Recap
Hello World….
 Happy Monday dudebros!! Covino and Rich are back from the Lone Star State, and are in full gear back to the big apple! If you haven't heard lately "The Freedom Tower" is now NYC's highest skyscraper rising over 1271 Feet tall it actually stands 21 feet taller than the Empire State Building.The dudebros had an interesting weekend and a TON of random stories while heading home from Austin, Texas. They've been amped up to get back into the studio and kick it into high gear with the start of the week and the start of this Sweetness!! (For the record Covino is in L.A…..SORRY)
                    So speaking of Texas Rich and Covino were sharing stories on how the weekend went, where they went, who they met. Apparently for Rich 6th Street reminded him of Burbon Street, in New Orleans. Which I could understand since 6th Street looks like 42nd Street Times Square!! Spot on the other hand noticed to himself while in Texas he legitimately has nasty, Boobie sweat!! (It's a long story and I figure most of you don't wanna here about spots nasty sweat!) The biggest question and discussion the guys were talking about on the show was bathing suits and BBQ's. Works out since this is the last day in the month for April. BBQ's because Covino had a family BBQ over at his house and was discussing how he is in love with Shish Kabobs but they have to be cooked on Skewers.
                     Bathing Suits got brought up because Rich made up a point about the lining that most bathing suits have. He had another deep thought and wondered on if most guys were underwear or just go free when in a bathing suit? It did make me think for a second because as a kid I would let it all hang, now I jump back and forth sometimes I'll have my boxers on other times I won't. Mostly because the feeling of wet underwear is not fun while laying back on the beach or walking around you got damp draws sticking to you.
              Speaking of Beach and having your toes all out, Covino wanted to point out the new "Trend" or "It" thing that every woman is doing on Face book now…….Profile Pics of yourself from the waist down!! Better yet that classic photo of you and your friends with nothing but their feet in a circle. What is the point of this again?? He says he doesn't want to see or hear about this feet sinsation again it's the dumbest thing guys don't wanna stare at your toes all day! So here is some quick and HOPEFULLY last shots of what we are talking about….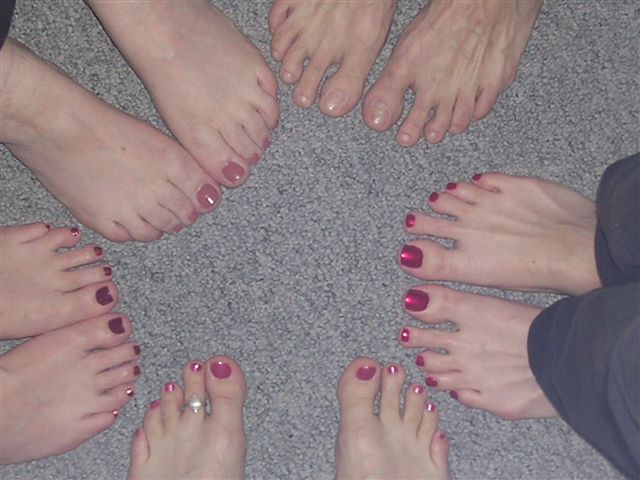 I mean honestly do we need to see this??…..
……..Think about it EVERYONE doesn't have pretty feet hahahahaha
Finally to end this Sweetness…..What do you do when you go to a nice family well rounded restaurant and about 30 frat house goons walk in and cause nothing but a wild, loud, good time for them! Bad time for you and your friends! Basically The guys were out to eat in some restaurant in Texas waaaay out there nothing close or near pretty much anything. They were a little shaky at first on how the food would be turns out the food was great, the company not so much. Some guys bachelor party was at this restaurant and it was full of frat house young college dudebros screaming and making random dumb drunking guy toasts for no reason?! Covino turned around a few times getting aggravated with his new "Buddies" being so load he couldn't even talk to Rich without screaming in his ear. So the big question the guys wanted to ask is……..What the hell do you do in this situation?? Do you stand up and tell these guys tone it down? Do you move to another less rowdy quite table? or are you pretty much stuck in the mud on this one? Think about it 30 guys over 4…..Ya you're pretty much out of luck.
Just to make this Blog a little bit funnier…….Rich told us how he plans on robbing a Vegas Casino!! He watched a special on "How to trick the casinos" Yaaaa it's pretty bad to check out the rest of the show or a show recap hit up Covino and Rich on Starz Too Channel 104 Mon-Fri.
Until the next time dudebros…………………………………………BLACKJACK!!!
-Richard Bray(Twitter:1RickThaRuler, FB:Ricky All Day Bray, Instagram: Ricky_AllDay)
Sweet Ricky
April 30th, 2012